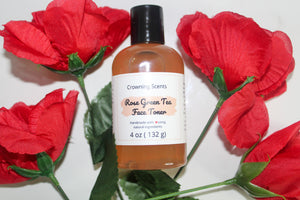 Face care for dry, sensitive and normal skin. 
If you have dry or sensitive skin, then this facial was toner is just for you! 
Toners are made to hydrate, brighten the skin and helps to tighten up pores.

How to use: After washing your face, apply the toner to a cotton pad or pour some into your hands. Gently wipe the toner on your face and neck. After the toner has completely dried, follow up with our facial moisturizer.
When: This should be the second step in your morning routine and night time routine. 
Ingredients: Rose Water, Distilled Water, Glycerin, Green Tea Extract, Calendula Extract, Germall Plus, Citric Acid