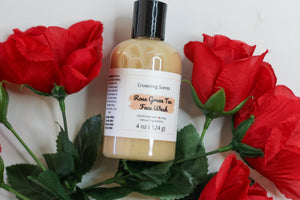 Face care for dry, sensitive and normal skin. 
If you have dry or sensitive skin, then this facial wash is just for you! 
Our face wash is made to cleanse away dirt, oil and leftover makeup from your skin without stripping your skin of its natural pH.
How to use: Thoroughly wet your face with cold water. Massage the face wash into your skin gently in small circular sections. Rinse with lukewarm water and pat your skin dry. 
When: This should be the first step in your morning routine and night time routine. 
Ingredients: Rose Water, Distilled Water, Grapeseed Oil, Cocamidopropyl Betaine, Colloidal Oatmeal, Glycerin, Capryl Glucoside, Green Tea Extract, Optiphen Plus, Xanthum Gum, Citic Acid