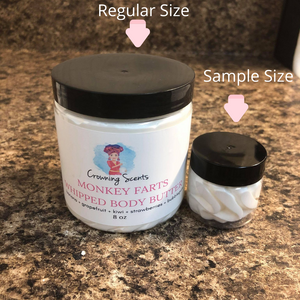 QUANTITY LIMIT OF ONE PER ORDER! 
Take a look at some of the top quality natural ingredients in our product and what the benefits are! 
Shea Butter- Shea butter has a high amount of fatty acids and vitamins which is great for softening the skin and sealing in moisture which leaves it healthier. 
Cocoa Butter- Cocoa butter is high in fatty acid which allows it to hydrate the skin and seal in moisture. Cocoa butter has been know to heal rashes from conditions like dermatitis and eczema. 
Sweet Almond Oil- this oil is full of Vitamin E, Vitamin A, mono saturated fatty acids, protein, potassium, and zinc. Vitamin A  can help reduce acne while vitamin e is great for cleaning out the dirt and oil. Fatty acids help your skin to retain moisture. Vitamin E keeps your skin looking supple and wrinkle free. 
How to use: After a shower, Grab a pea size amount of body butter and rub onto your skin while your skin is still damp. Apply as needed.

Get your whipped body butter today and treat yourself to soft, moisturized skin. 
Take a look at the rest of our body butters here. 
* If shipped during warmer weather, this product may melt. Body butters have a low melting point. Please keep checking your tracking number to ensure you retrieve your package quickly. All body butters will be wrapped in thermal paper with an ice pack to help prevent your body butter from melting. Although your body butter will be wrapped in thermal paper and have an ice pack with it, it does not mean that you can leave your whipped body butter in your mailbox all day or sitting out on the porch.
Ingredients: Shea Butter, Cocoa Butter, Sweet Almond Oil, Fragrance Oil