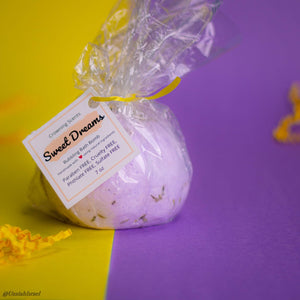 Relax and unwind with our bubbling bath bomb. Filled with lavender essential oil and topped with dried lavender leaves.
Lavender essential oil is known for promoting relaxation and helps with allergies, stress and insomnia.
This is perfect for :

✅ making your bathroom the ultimate oasis. 
✅leaving your skin smooth and hydrated.
✅relaxing at the end of a long day.
 How to use: Fill your tub up with warm water. Put the bath bomb in the water and watch as it dissolves and the aroma fills the air. 
Read in detail about the benefits and ingredients of our skin care products.